"Linnea is a succulent genius! My husband and I met with her to create living succulent arrangements to be used as the centerpieces for our wedding. We really wanted something that would last past the day-of and loved the idea of sharing a piece of our big day with our closest friends and family. We had purchased 6 stone containers that we liked the color and style of since they were low and round but essentially left everything else to Linnea - and we were not disappointed. She really blew us away with her expertise and her attention to detail. You can tell that Linnea has a great eye for color and design because she put these together so meticulously, we honestly wouldn't change a single thing. We came to see the progress about a month before and we were so pleased that we asked if she could create another piece from a teapot and creamer we had to tie in our tea theme and head our sweetheart table. They looked so incredibly adorable and whimsical and everyone loved this detail that meant so much to us. The centerpieces looked simply stunning on each table that evening and really pulled the whole thing together. Better yet, our guests loved that they had a beautiful living arrangement to grow in their garden as a memory of this day - and I'm glad we kept one too because it is so lovely to look at and reminds us of the best day of our lives. Thank you, Linnea!"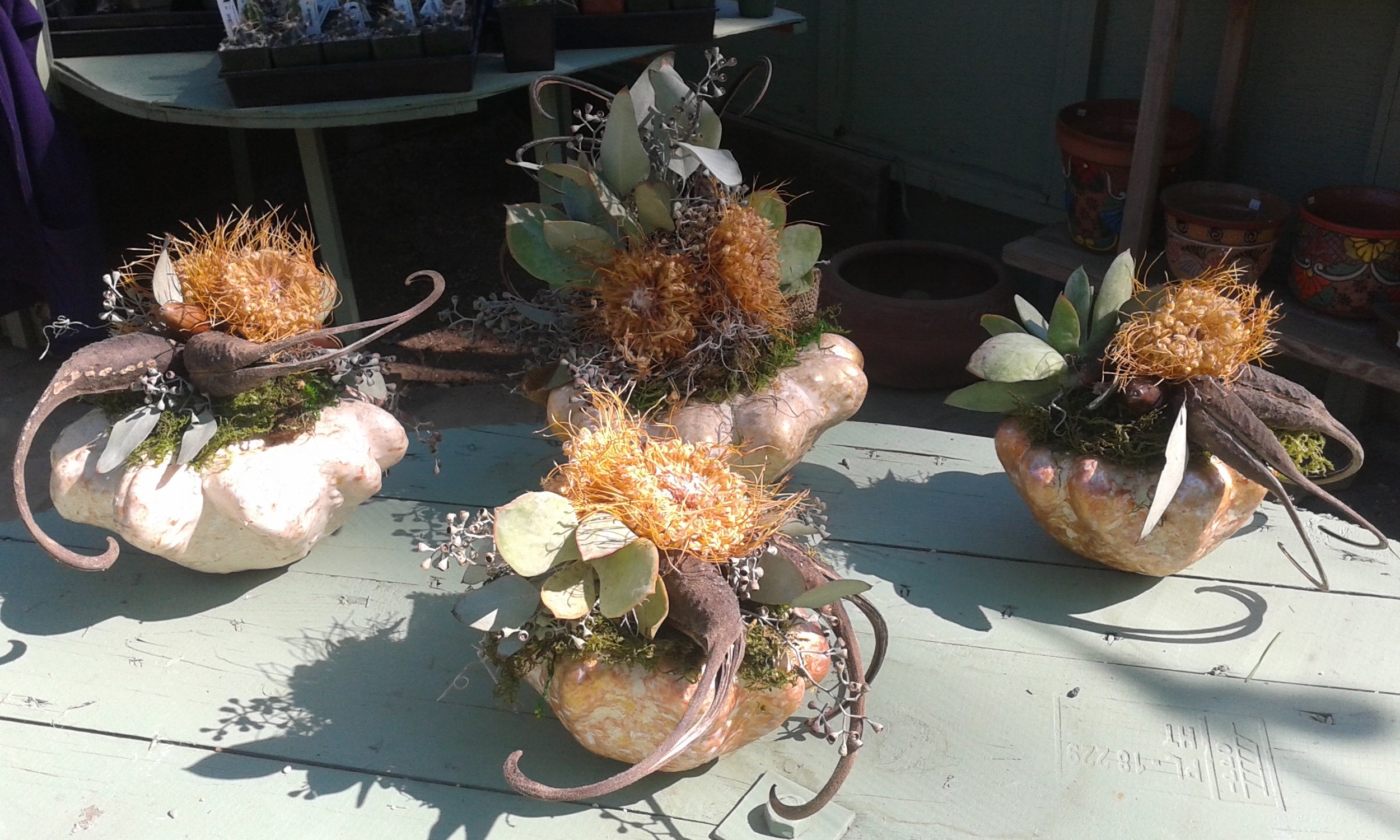 These squash were sponge painted with metallic acrylic paints prior to being adorned with green moss, succulent cuttings, dried plant material, seed pods, acorns and more.
The following images are of store bought wood birdhouses that were hand-painted and then decorated with succulent cuttings. They are placed in the Floral Design section because their decorative purpose is shorter lived than succulent dish gardens. The succulent cuttings are glued in place and can be removed at the time when they show signs of desiccation and/or etiolation.